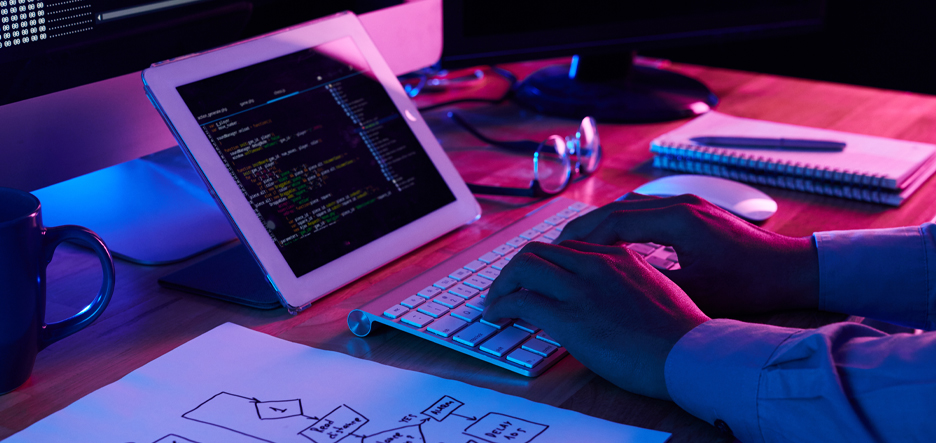 As market demand for Digital Transformation capabilities continues to grow, SAP is experiencing large opportunities to grow. Understanding best practices for large business transformations in the SAP world are an important area of interest of most CIOs, drawing interest worldwide. SAP's customers are spread out across over 180 countries, and a whopping 92% of the Forbes Global 2000 list use SAP's solutions. SAP is constantly innovating with technological advances and enables new platforms, such as the Internet of Things and the Cloud, via the SAP cloud platform. Customers are also making a move to DevOps, which brings a new set of challenges. It is necessary to provide advanced technical support to meet the DevOps movement's requirements and the change in SAP offerings so that businesses can offer uninterrupted service to their clients and provide consistently high-quality digital products.
Software Quality Assurance(QA) is an essential component of the fast-paced, ever-changing business environment. Order and delivery processes are integrated on vendors' and customers' IT sites to keep storage costs down and increase production speed. In the event of major IT failures, billions and millions of dollars are lost in business productivity. According to recent research, the annual IT-testing budget comprises about 26 percent of the total IT budget.
SAP systems automate many of the day-to-day business tasks that organizations must perform and extend beyond company boundaries to touch customers, suppliers, and partners. Any disruption to an SAP process could lead to disaster for all the participants. There are many significant challenges from both perspectives; business and technical  related to business continuity.
Key Business Challenges for SAP Customers
There is no 'one size fits all' migration journey
There's no single plan that's right for all organizations looking to migrate to SAP. Every move has its exceptional hardships.
It is hard to recruit specialist staff.
Identifying and recruiting individuals who have been through a prior transformation similar to yours is difficult because they may not have the skills to share their experiences.
No matter what, the show must go on.
For the majority of the time, SAP upgrades require business-critical processes to be performed while in-flight. Any downtime could be disastrous for your business if SAP is a mission-critical component.
The quality must be kept high.
Errors in SAP applications, or any mistakes in data, are almost always amplified as this data is shared with numerous internal and external systems. Ensuring integrity is imperative, and extensive testing is required.
The company must take steps to protect its data, and it must adhere to regulations regarding data protection and privacy. Understanding the rules and their requirements is critical to ensuring that any system changes do not put the company at risk.
Key Technical Challenges for SAP Customers
Tight Control & Monitoring Environments
Most are highly regulated when it comes to SAP environments, which necessitates a complete record of every aspect of the software development cycle.
State-of-the-art Technology
To perform adequate testing of SAP's GUI (graphical user interface), SAPUI5, and SAP Fiori, one must possess thorough expertise in SAP's proprietary aspects.
An advanced ecosystem leads to Advanced Complexities.
The SAP environment includes a diverse application ecosystem, causing unnecessary dependencies to slow down development, testing, and integration processes. Many of the SAP/non-SAP communications protocols are proprietary. Furthermore, many tools may not support IDOC and RFC testing protocols and are commonly associated with expertise.
A typical organization uses a record system in the back office to which customers and potential customers have access through a system of engagement on the front end. It is typical for long-established information systems to use slower, waterfall-based development methodologies for their upkeep. The DevOps methodologies will enable the system to deliver updates in almost real-time. Keeping these systems in sync is challenging because of the different methods used by the teams working on the different approaches, which also causes difficulties in sharing information and collaboration.
Approach to SAP S/4HANA migration
The SAP migration approach is recommended as being in four phases. The framework helps teams with various project phases, including early planning and exploration, to validate solution approaches. After implementing the requirements and their subsequent testing, the third stage is deployment and maintenance of the solution, which is accomplished through monitoring.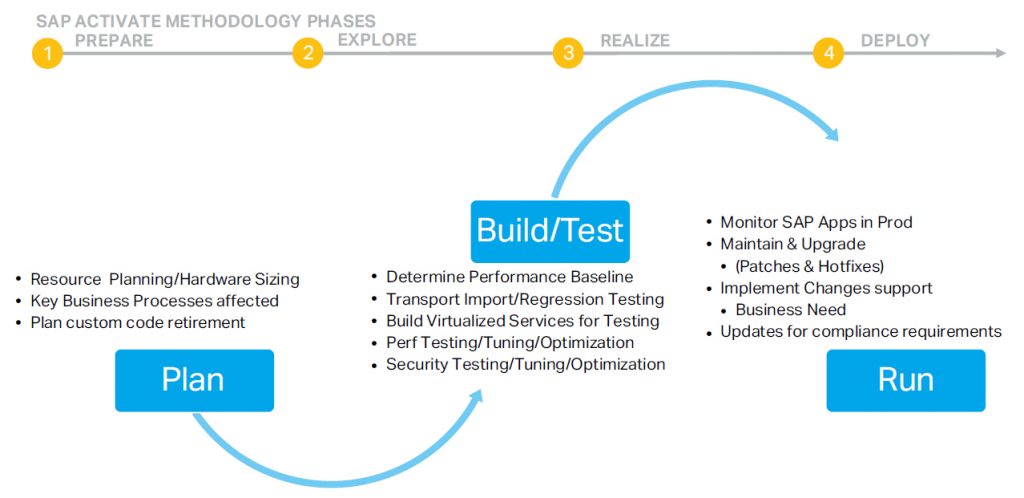 Image Source: SAP
While we may not fix every issue that SAP transition raises, Micro Focus is uniquely placed to help you address many of the technological hurdles you will run into. Micro Focus, a software quality assurance (QA) solutions company, has a dominant market share. 
Micro Focus is SAP's sole partner (SOLEX) with more than 2,000 references from joint customers. It offers a wide variety of SAP Web and Mobile testing and security solutions part of the SAP Cloud Platform.
The Micro Focus product world is mainly expanded within the following featurettes:
Functional testing

Performance testing

Security testing
The Micro Focus Application Delivery Management (ADM) package, a collection of integrated software solutions, makes it possible for IT and business teams to deliver applications with increased confidence and record time. The application lifecycle management, functional testing, performance engineering, and monitoring in production are all parts of ADM. The ADM portfolio helps software delivery teams, regardless of their development methodology, by allowing them to take advantage of the latest technology. This service works for businesses of any size and in any industry, supporting teams, small companies, and big enterprises with everything from portfolio planning to production.
Let's have a glance at the ADM portfolio for SAP.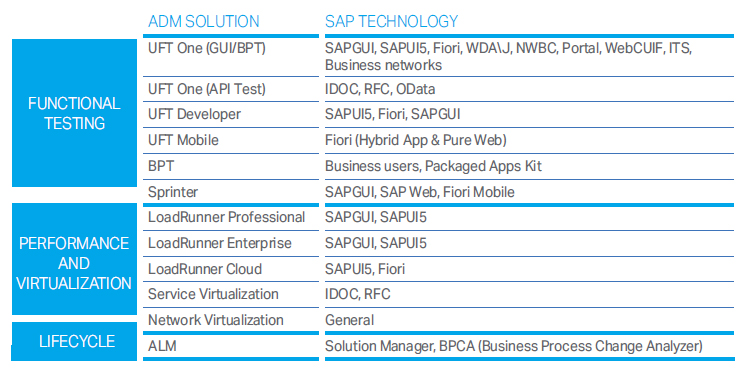 Image Source: SAP
Today, businesses are inseparable from the software that operates them. In an attempt to transform their software while keeping their business operational, they must ensure that the system continues to operate without disruption and that the system's quality does not suffer. Regardless of whether SAP is the foundation of a business, any transition brings difficulties. Still, especially in the latter case, many unique technological challenges must be solved to preserve the company's stability. Micro Focus has an extensive selection of products for addressing challenges such as data migration, availability, and data center consolidation for SAP. People who opt for the Micro Focus portfolio can be confident in the close relationship between SAP and Micro Focus, which has focused on helping customers simplify their journey as they navigate complex SAP transformations.
We will talk in detail about each of the testing processes and how it curbs the business and technical challenges on our upcoming insights.