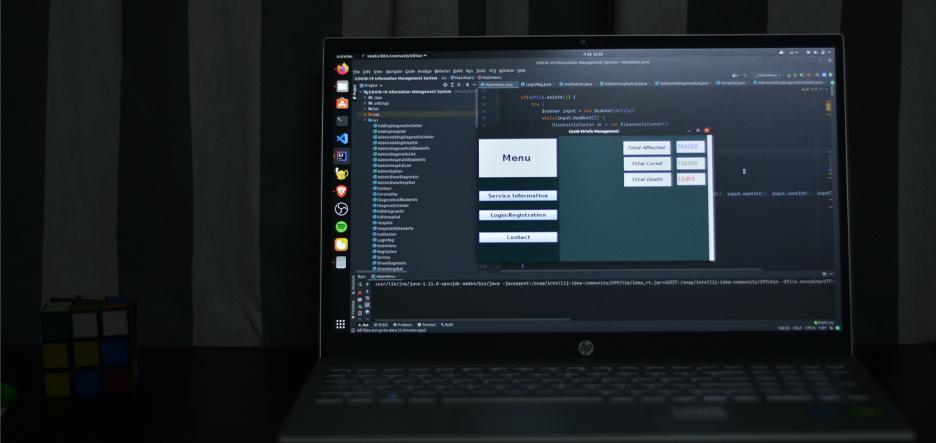 End-to-end functional testing with one intelligent solution is accelerated and simplified with Micro Focus UFT One, which automates tests for enterprise applications using embedded AI-based capabilities. QA and testing teams can efficiently scale tests across distributed infrastructures and web and mobile and replay scripts quickly with cross-browser support. Test workflows can be integrated with version control, continuous integration, and agile practices, as well as with cross-browser compatibility and with the comprehensive ecosystem of integrations offered by version control and continuous integration. Support of 200+ technologies including SAP, Salesforce, Java, Citrix, and more work together to ensure UFT One delivers enterprise-grade application testing across the entire test coverage spectrum. It is a functional Testing solution that supports broad operational capabilities and advanced AI-driven features to provide an organization with automation scalability at scale, coupled with its current DevOps toolchain.
How is UFT One Unique?
UFT One platform provides an easy, visual, and efficient way to perform both manual and automated testing along with framework-based testing (IDE). The functional testing process can be significantly simplified by the useful testing tools in UFT One, resulting in considerable cost, time, and complexity reductions. Furthermore, the UFT One API testing capabilities can perform service and application testing via their programming interfaces. UFT One supports the SAPUI5 application and user interface objects and various methods and APIs from SAP Web Dynpro, ABAP, and the SAP NWBC Desktop application.
Unique Capabilities to Address Unique SAP Challenges
In our previous article (hyperlink), we listed several technical issues resulting from an SAP transformation. SAP customers can take advantage of ADM solutions to address these issues.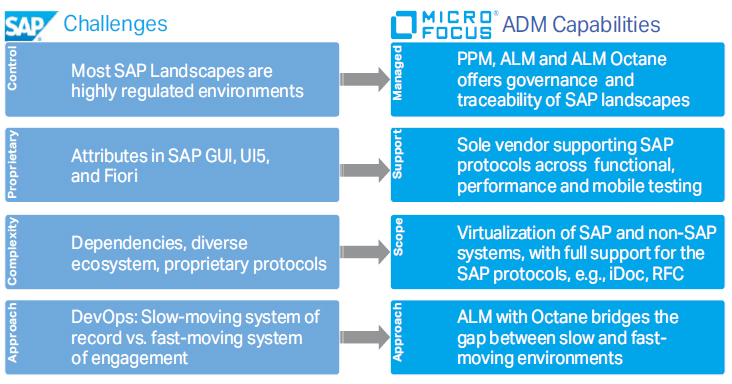 Image Source: Microfocus UFT
Let's look at these in more detail.
Controlled Environments
Micro Focus ALM provides the governance and traceability of SAP development and maintenance operations. SAP Solution Manager is where business process definitions are stored at a high level. Solution Manager and its associated processes, such as test requirements, tests, and defects, can be integrated with Micro Focus ALM. All ALM teams gain complete end-to-end visibility into the quality state, and the development pipelines, thanks to the integration and synchronization between ALM Octane and ALM Octane. Many capabilities exist within SAP Solution Manager to assist customers with their SAP implementation. Test management, change control management, and business process testing are delivered by integrating ALM tightly with Solution Manager, allowing testers to understand what to test and prevent errors in service.
Proprietary Technology
ADM solutions from Micro Focus help users conduct functional, performance, and mobile testing using SAP protocols. It is critical that your SAP implementation functions correctly and supports the load your users will put on it. If you cannot comprehend the technical implementation and interfaces between the various parts of the system, you will not confidently maintain or extend your SAP implementation. To test your SAP implementation, you can utilize Micro 'Focus' functional and performance solutions, which assist with technical protocols and enable you to easily and quickly build extensive tests.
Complex EcoSystem
Performance testing on live systems is likely to yield decreased performance and higher levels of user frustration. Ideally, the portion being tested should be separated from the system being used in production. Service virtualization has now arrived. Ensuring that these systems continue to function as expected in production and disconnected from the system under test is essential in the virtualization process. However, because Service Virtualization can faithfully emulate the service's behavior, the system under test is unaware of it. All of the production systems are unaffected by the test. Once the test is finished and any issues or defects are fixed, we can deploy the software in production and launch our systems for actual use.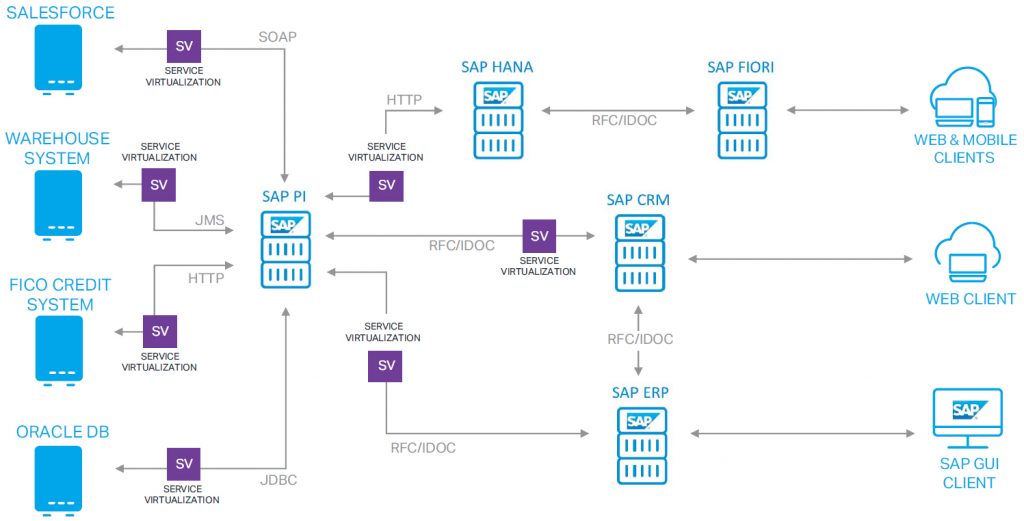 Image Source: Microfocus UFT
Slow-Moving System of Record vs. Fast-Moving System of Engagement
Complementing ALM with ALM Octane permits organizations to overcome the challenges of continuous delivery and synchronization between information systems of record and systems of engagement.
How business is conducted has changed dramatically due to digital technologies and our use of them in our personal and professional lives. Change is happening faster now than it was previously, and it is accelerating. The speed at which business activities, processes, and models are transformed to utilize digital technologies is increasing. We responded to the "age of the customer" with this. There has been a massive shift from the back office to the front office in the business world: from the "systems of record" to the "systems of engagement." Business applications such as ERP, finance/accounting, and human resources management are frequently used in an organization's record systems.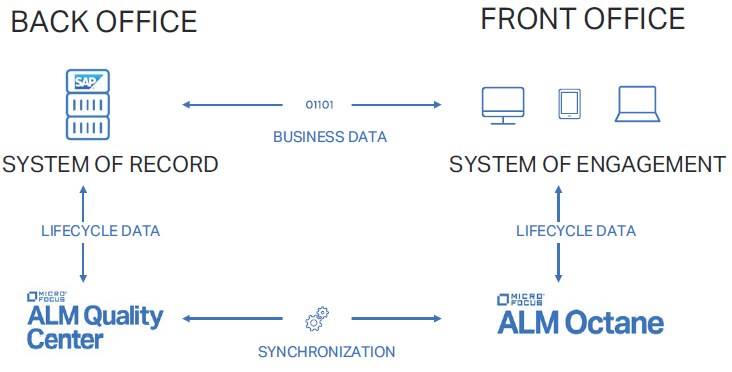 Image Source: Microfocus UFT
For people who want the power to make decisions when they're on the go, systems of engagement give customers, partners, and employees context-rich apps and intelligent products that empower them. Digital customer service offerings must meet customers' expectations flawlessly and quickly across all channels and platforms, independent of the characteristics of their browsers, devices, connection speeds, and geographies. Back office systems like ALM are still commonly used, but modernizing the front office requires implementing ALM Octane to manage mobile, cloud, and web interfaces that connect to them. Information flows in and out of the front and back offices, so all ALM lifecycle management systems need to sync with ALM Octane. Transparent synchronization of tests, defects, and other artifacts can be provided, and both systems will be updated in real-time. While different teams might do the front and back-end development, these teams can work together to ensure that nothing is missed.
In addition, functional and regression tests can be invoked simultaneously as the standard build process to produce results, which are then reported in ALM. Team members are immediately alerted to issues, thus maintaining the agile timeline. This means that the shared application object definitions of UFT One help teams collaborate by ensuring that changes to test objects are synchronized during the test creation process.