Our unique approach involves combining 3 core building blocks – Studios, PODs and Theatres to deliver differentiated customer experiences for the New AI World.
At NutaNXT, we take a user-centric approach to design and product development and therefore, we believe it is important to bring user insights and a detailed understanding of how users will adopt a particular AI product, very early into the Product Design phases. When engineering and design come together to meet scale, the outcome could be a compelling product with a great user experience.
A group of specialists who share knowledge, tools, processes, best practices etc.
A Studio lead, domain experts and consultants.
Its own unique set of offerings for customers.
Well defined processes and practices to hire, train and retain the best talent.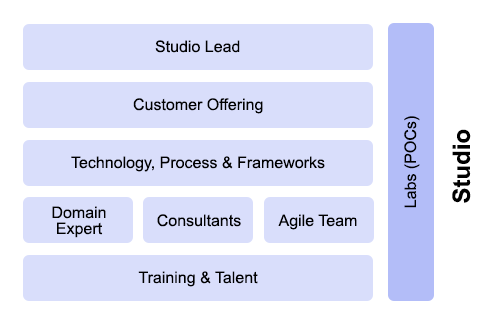 Our Studios are a community of some of the brightest minds in technology with deep domain expertise in a particular Technology domain. Through Studios we connect and rapidly develop talent to deliver to customers' needs.
PODs are customer dedicated innovation teams. Selected experts from different Studios come together to form a POD, to deliver to the customer needs or to solve a complex problem. They combine disciplines to build products for customers.
PODs combine our AI expertise with business knowledge from the Customer to bring products faster to market.
Higher Productivity – Technology, Process and Product maturity
Agility – is more than a process. It's part of our culture and everything we do to improve the speed at which we deliver.

Theatre is a Dedicated Customer innovation center (NutaNXT managed, customer owned) with multiple PODs and dedicated infrastructure, designed to address specific business and scalability needs of a customer.
Our flagship offering to customers looking for a R&D partner to deliver products faster for the AI world.
Scaling with
Studios, PODs and Theatres
Our approach is specifically designed to help customers build innovative AI products and solutions at breakthrough speed. We are passionate about helping customers hyper-accelerate their AI journey – whether it is designing a new Cognitive system or improving an existing ML algorithm or building future customer experiences with application of AI.
Our world-class Studios bring together deep Design, AI and Cloud capabilities and enable us to build cross-domain PODs for you in weeks or even days. Coupled with our Studios and PODs, we combine our S2C2 Innovation Framework to build dedicated Theatres to enable customers to scale very rapidly. We make it possible for customers to own a AI Theatre without the need to manage it.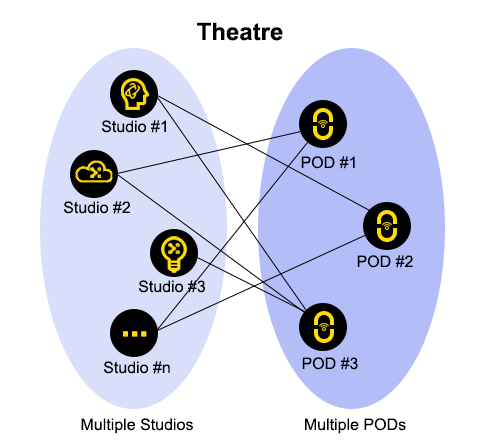 Experience working with NutaNXT