AI Theatre: New Approach to building AI Products faster
Customer Owned, NutaNXT Managed Innovation Center
Our AI Theatre model is specifically designed to accelerate every phase of your AI journey from Ideation to Design, MVP, Product Launch, Customer Adoption and Revenue Scale-up.
Streamline Software Product Development & Accelerate Time-to-Revenue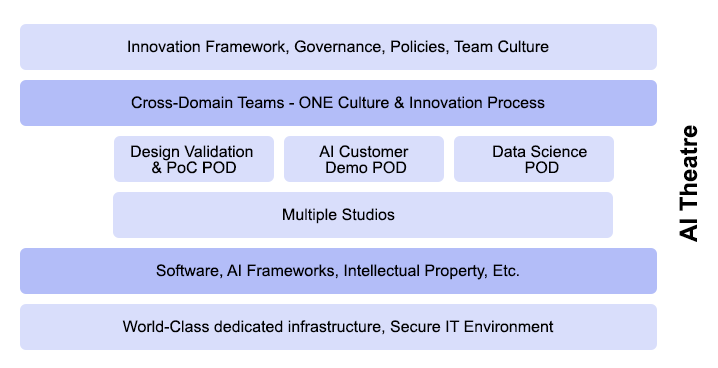 See how we could help you build your AI Theatre in 90 days!
Clients see significant value from the simplification and speed resulting from a customer owned, NutaNXT managed unit with cross-domain Product Design and Engineering capabilities.
A New model designed to hyper-accelerate your AI Journey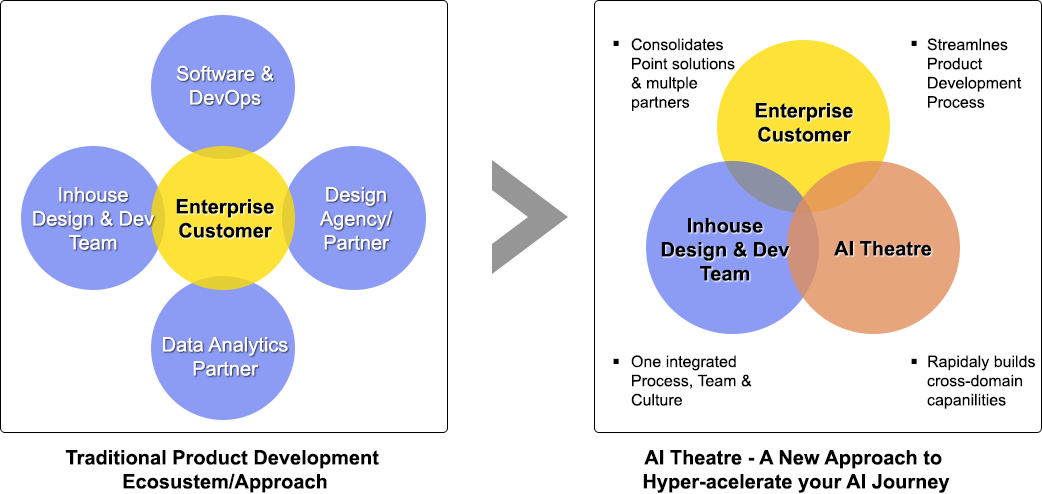 NutaNXT understands Speed and Scale are fundamental drivers for enterprises building products for the AI World.
We are an organization specifically designed to address these complex challenges and deliver specialized solutions to help customers accelerate all phases of their AI journey. NutaNXT AI Theatre is a New Approach that delivers on this promise and drives sustainable competitive advantage for our customers.
AI Theatre is a dedicated Product Design and Engineering Unit for a customer. It combines multiple PODs and capabilities from one or more Studios in a way that allows customers to build and launch AI products dramatically faster.
Best-in-class facilities, infrastructure, Cloud, and processes to drive efficiency and speed of execution
Operates as a seamless extension of your in-house engineering and design teams – One team, One culture enhances employee engagement, ownership and productivity
Cost-efficient operating model that provides 100% transparency across Governance, Workflow, HR, Finance, etc.
Our unique 'S2C2 Innovation Framework' delivers Customer Value
NutaNXT 'S2C2 Innovation Framework' is fundamental to how our cross-domain teams within a Theatre systematically collaborate, partner with client teams and execute on some of the most complex Software and Design projects.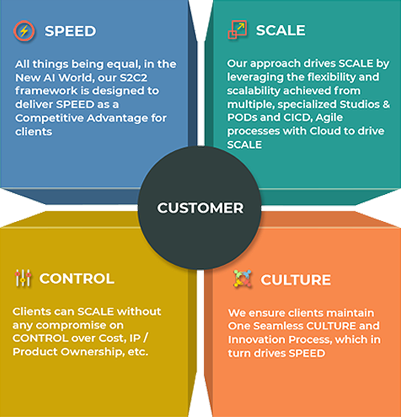 AI Theatre accelerates product launch enabling multi-million dollars in revenue from early customer wins and saves more than 56% of Product Development budget for US CPG client.
Building a world-class, dedicated customer unit with cross-domain capabilities:
AI + Cloud + Design + Software Product Engineering
Business Impact
Significantly improved Product Release cycles & Acceleration of Early AI Product Revenues
Established a New AI Theatre for the client consisting of multi-domain experienced teams across AI/ML Cognitive Systems development, UI/UX Design and Cloud.
Breakthrough Speed of execution – Setting up infrastructure, Onboarding and training new team, operationalizing for productivity was completed in less than 15 weeks. This built the foundation to deliver up to 45% reduction in product delivery cycles.
30% Improvement in Product launch timelines, supported by specialized cross-domain demo teams set up within first 7 weeks of New Theatre made live demos' to customers' customer possible at less than 25% of trial budget
By truly partnering with the client, NutaNXT was able to deliver an RoI of greater than 4 times the investment.